In order to expand our team talent pool and skill set, to allow us to treat people in a more timely manner, and frankly to help extend my own career, our team is thrilled to announce the addition of Dr. Jeremy Koontz. Our Team members and others who have already met Dr. Koontz describe him as kind and instantly likeable. I'm personally excited because his talents, training and expertise will compliment my own, and will allow us to answer "Yes!!" more often to one of your most frequently asked questions: "I like and trust your office! Is there any way you can do my (braces, extraction, denture, etc.) here please?"
I invite you take a moment to discover more about Dr. Koontz below, and say hello to him at your next visit.
~ Dr. Peterson
---
Jeremy Koontz, DMD
I believe everyone deserves to have a comfortable smile. Smiles immediately precede laughter and are the universal sign of happiness. A smile can make the saddest of experiences better and greatest of times unforgettable. Many of my greatest moments, relationships, and accomplishments have all started with a simple and confident smile. Whether your smile is a subtle grin or spans from ear-to-ear, you should be proud to show it.
I also believe that the only good reason for not smiling is to telling a good joke. If fear, embarrassment or a lack of confidence are holding you back from smiling, what else are you missing out on? As a dentist, I am dedicated to helping patients of all ages achieve healthier, happier smiles. I've always found joy in seeing my patients' quality of life and self-esteem improve because of the dental care we provide. I appreciate the relationships I've established with my patients. Each person I meet reminds me that, regardless of background or culture, we are all people with feelings, concerns, and needs.
I am truly grateful for my patients allowing me to take care of them and their family's dental needs and very much pride myself on creating smiles and oral health to last the test of time.
Education and Continuing Education
Bachelor of Science – Brigham Young University
Master of Medical Science – Boston University
Doctorate of Medical Dentistry – Case Western Reserve University
Dentistry is a dynamic and evolving field. New technology and innovations have made dental care more comfortable and effective than ever before. I continue to seek education in the latest treatment modalities—such as clear aligner orthodontic therapy, or Invisalign—in order to provide my patients with a comprehensive, pain free, and pleasant dental experience. Along the way, my commitment to stay up-to-date on the cutting- edge innovations in dentistry and medicine have garnered recognized through various awards.
Professional Affiliations and Awards
Invisalign® Certified
American Academy of Esthetic Dentistry Award
American Academy of Oral and Maxillofacial Pathology Award
American Association of Oral and Maxillofacial Surgery Award
Chalmer J. Lyons American Oral and Maxillofacial Surgery Award
Richard A. Collier Award
Dr. William S. Kramer Award of Excellence
American College of Oral and Maxillofacial Surgery William H. Bell Award
Vibeke K. Nygaard Award
In the Office
I am committed to high standards and have great expectations for all my patients. I have a comprehensive approach to dentistry that creates an experience that is informative and comfortable. I will explain the diagnosis and treatment plan and am always happy to discuss and address any questions or concerns. It is important to me that you give the okay to proceed with your treatment, and until you are comfortable, neither am I.
In the Community
Growing up in Enumclaw, Washington I learned at an early age how rewarding and satisfying sincere service and hard work can be. One of my favorite quotes is by Albert Einstein, "Only a life lived for others is a life worthwhile," and has been a phrase I have tried to model in my life.
Being a part of a community means a lot to me, so I try to participate in several meaningful ways. Faith is very important, so I am involved in our church. As a dentist, I have participated in Healthy Smiles, Give Kids a Smile, and MedWorks programs, all of which dental care to those who may not receive it otherwise. It is very gratifying to help others overcome dental infection and pain, but it also makes me very appreciative of the amenities and blessings many take for granted.
Outside the Office
Although I am passionate about dentistry, my first passion is my family. My wife and I will be celebrating fifteen wonderful years of marriage and together have four children. Our two girls and two little boys keep us busy and entertained. We love to go camping, hiking, ride bikes, watch movies, gardening, and have an occasional dance party as a family.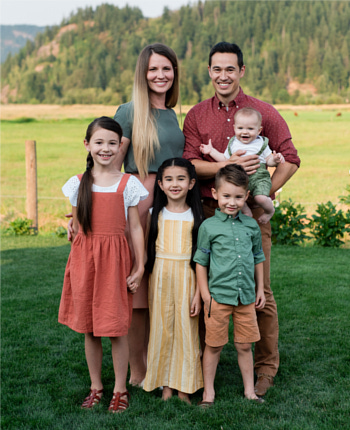 In the spare moments between family time, work, and church service I find joy climbing mountains, competing in bike races and triathlons, working in the yard and on home renovation projects, and restoring and repairing classic motorcycles and automobiles.